Scent Lab
Awarded Crowbar Awards
Branding Identity – Silver
Packaging – Bronze

Nominated for
Phillips Design Excellence Award

Creative & Art Direction,
Brand Packaging,
User Experience
In a time where perfumes are mass marketed and easily accessible to everyone, a unique scent is truly in demand. Scent Lab bypass design conventions to bring together the art and science of perfume to allow people to create and appreciate their exclusive scent. This project was developed for my Final Year Project to capture the hearts of fragrance enthusiasts, particularly young women looking for quality, craftsmanship and authencity.
At Scent Lab, individuality is not just reflected in the handcrafted scent but also apparent in the crystal visualisation of the packaging and perfume bottle. For every personalised scent created, there will be an accompanying unique scent symbol. These symbols take inspiration from the nature of crystals – each one is different and no two are alike.

A branding system is designed to showcase the millions of permutations. Every scent is unique and each customer's scent preference can result in a unique-crystal inspired monogram based on the quantity and type of their chosen scents, which is then applied on the packagings.


"Scent Table" was inspired by the Periodic Table of Elements. It is the menu of Scent Lab which contains many types of perfume ingredients of different scent categories for customers to choose from. Being a seasonal based menu, it features new sets of perfume ingredients once every season. This gives Scent Lab's customers more variety to choose from, and for them to always have something new to look forward to.

How it works:
1. Customers get to choose a minimum of 3 scent ingredients from the menu or scent samples.
2. Perfumers at Scent Lab will add other fragrances to complement the chosen scents.
3. Decide on the dominace level for each scent note – Top note, Middle note and Base note.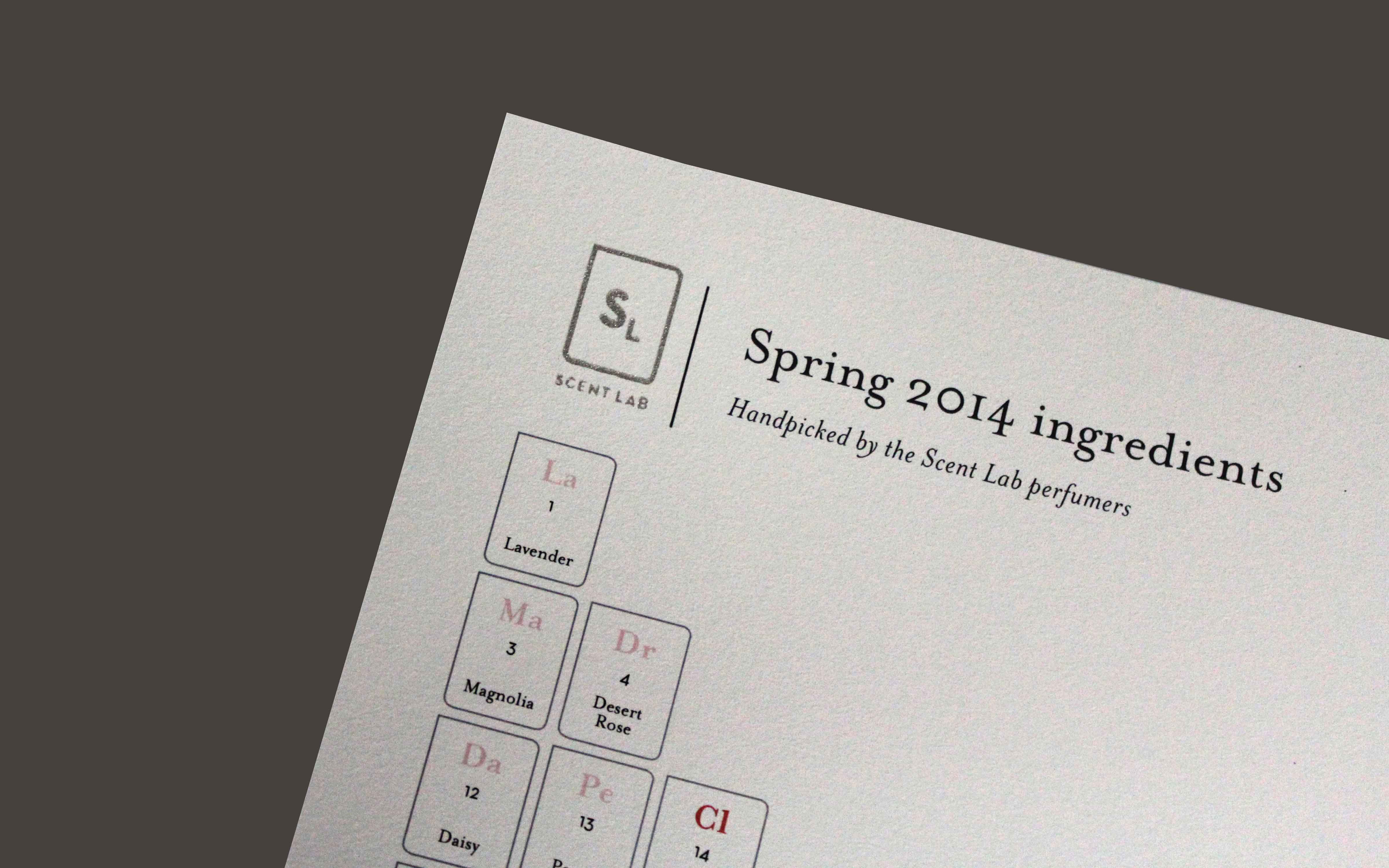 The top note of each customised scent determines the design of individual perfume bottle, taking after the structural shape of the crystal representation for each scent category.